Cibdol CBD
Created from some of the finest grown hemp in Europe, Cibdol CBD Oil is one of the highest quality organic CBD oils available on the global market today. Drawing on a combination of years of experience, traditional organically grown materials and the latest scientific processes, Cibdol remains the best of the best.
All Cibdol oils are 100% natural. They do not allow the use of any pesticides, fungicides, herbicides, chemical fertilisers, genetically modified products or growth hormones anywhere in their production process – just as Mother Nature intended.
Modern agriculture is split into two main approaches. One is high-intensity farming using GM plants, chemicals such as pesticides, herbicides, and fungicides. Intensive farming methods yield a maximum volume of low-quality produce that is full of chemicals. The other method is organic farming which takes a slower but sustainable, more natural approach. Both ways, industrial and natural, also applies to the production of hemp and CBD oil.
Cibdol pride itself on its organic methods. They aim and achieve Full Extract Cannabis Oil that contains a spectrum of beneficial plant compounds, in addition to CBD instead of just CBD. They stringently follow EU standards for human food production guidelines, buying only the best naturally grown hemp from farmers. They use raw hemp extracts low in CBD yet rich in natural phytocomplex. To obtain the high concentration of cannabidiol, they selectively purify the original extract.
Cibdol ensures full decarboxylation to provide peak levels of CBD. Decarboxylation is the process of applying heat to remove the carboxyl group and transform the inactive compound CBDa into active CBD, which then provides a comprehensive course of potential benefits. CBD oils which are not fully decarboxylatd are less effective as the compounds they contain will be largely inactive. While some decarboxylated oils may be inexpensive, it pays to consider what you're giving up when choosing the cheapest oil.
Cibdol uses the CO₂ extraction process. For a long time, butane, propane, and alcohol were the main solvents used to extract components from cannabis and hemp plants. Now, CO₂ has rightfully earned its place as a much more efficient and sophisticated solvent. CO₂ is regarded as one of the purest, most efficient, and most versatile forms for extracting the components from hemp and cannabis.
Cibdol sets the gold standard with CBD oils, maximizing the effectiveness of CBD. Their oils do not contain waxes, fats or chlorophyll that result in black colour and pasty consistency. Through a proprietary filtration process in Swiss laboratories, they eliminate impurities, while leaving the important profile of active compounds in place, resulting in a smooth, golden oil. Cibdol CBD oils are optimized to provide consumers with well-rounded benefits packaged in easy to use, discreet bottles.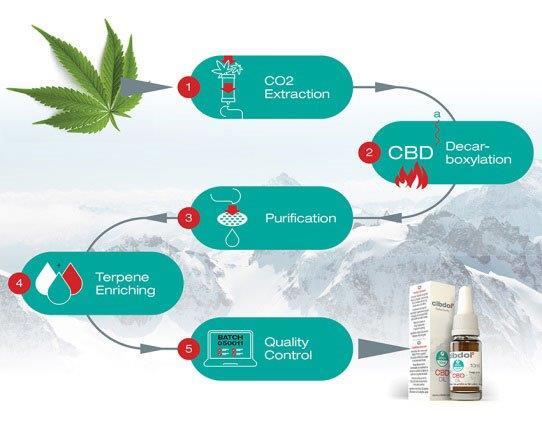 Cibdol's food safety system is annually audited by a certified body. Additionally, Cibdol is reassessed by an auditor from Halal International Control (HIC) to ensure the products listed continue to meet the required production standards on an annual basis.
Each batch of resulting CBD oil is tested and certified, its CBD content determined and guaranteed, together with all the other original compounds. That is why CBD oils by Cibdol are among the purest, 100% natural CBD remedies available today.